Bold & Courageous Leadership
FIGHT FOR SOUTHERN ILLINOIS!
I will fight for Southern Illinois and be your voice in Congress, fighting tooth and nail to protect our Second Amendment rights and defend the sanctity of life. And I will always be a champion for American jobs and working families.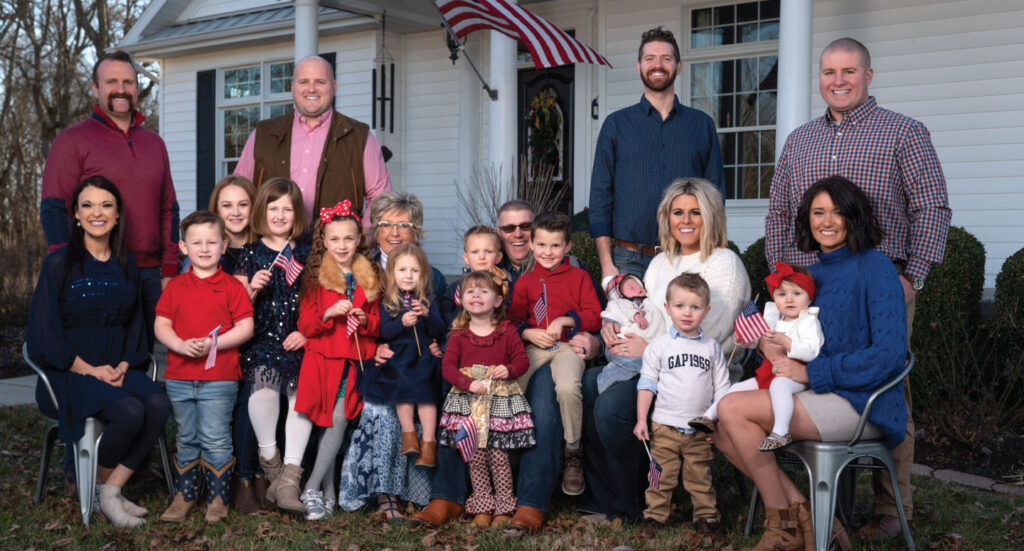 Meet Darren Bailey
A farmer, family man, and fellow citizen from rural Illinois, Darren Bailey's conservative roots run deep.
Chip in to Restore Illinois
Facebook Posts
Enough. It's beyond time to impeach Crooked Joe Biden and hold the entire Biden crime family accountable. I've been calling on this for a long time; it's a shame too many members in Washington take their marching orders from the establishment. It's time to shake up Washington because we deserve a whole heck of a lot better than this nonsense. ... See MoreSee Less
5 days ago

We agree with you Darren.
Time to drain the swamp for good
Sadly it seems to be considered "just doing politics" and the norm. I pray this ends!
I agree, and the gas prices should go down, same goes for groceries
I agree but can't stomach the vp moving up so if we can get rid of both ok
And it's not just Biden it's flowing all through those in positions. I pray for God's hand to move. And everyone needs to pray for just that. Whether we see it or not! Pray not for us to see them burn. Pray for God to be glorified!
Darren Bailey I totally agree with you!!!!!
Indeed, he needed to go 47 years ago. Exact reason we need term limits in congress.
I believe that 100 💯 percent but try to convince those democrats they stick up for him because they don't want to loose their jobs!!
Unite fight educate and PRAY now. This is our country. Time to take it back from the global communists. We are at war with evil. 🙏Pray always. Pray together. Pray in church. Pray everywhere. Read the Bible. ✝️ Blind Satan. We are one nation under GOD. God bless and protect America. Please remove the demons. Please send your legion of angels to help fight this war. We ask this in Jesus name. 🙏🇺🇸❤️🤍💙🇺🇸🙏
💯 agree! And they need to Close the border!!!!!
Please be carful Mr. Bailey. Your concerns are justified. However when our emotions overcome rational thoughts then we fail to achieve the objective. You will get drawn into the political system that is currently is manipulating a reactionary behavior from the public. We understand that the system needs to be changed but don't be drawn into the trap. Think rationally. Thank you
This is all BS just like a the other "evidence" Republicans have said they have against Joe Biden. Where's your outrage posts Darren on the real criminal in Trump? 91 criminal indictments to Biden's zero and it's Trump you shower with accolades. Maybe it's your character people should be questioning.
Amen Darren! You need to run for president!!!
When will enough be enough?!? When will we secure our border and put our country first? When will Congress stop writing blank checks with ZERO oversight? When will our children's and grandchildren's future be a priority to these career politicians? I'm ready to fight for our future and put an end to this nonsense. I'll take on the establishment of both parties to demand accountability and do what's right. It's time to put regular people ahead of special interests and it's time we the people took our country back. ... See MoreSee Less
6 days ago

We are for you Darren Bailey!🙏❤️🔥😊👍👑
I think we are in real trouble and agree with about all the comments below. But I also know the master controller has the power over all that is going on. He is call God. But keep up your work Mr Bailey.
Maybe it's all part of the plan
God bless and guide You through this difficult journey.
I agree so whole heartedly
I know what we have to do and that is vote these Democrats out and put them in jail. I just hope that we can hold out until election. The Republicans need to make some noise!!! GOD BLESS THE UNITED STATES OF AMERICA.
"end to this nonsense" well, correct, however, as long as the lie, cheat and steal, criminal syndicate is in charge, will never end the nonsense. Like Shawn Fain says, also, enough is enough, when CEOs in the auto industry making, 18mil to 24 mil, annually.
Yes!! We are under attack. We must start thinking like Warriors!!! Thank You Darren Bailey!!!
It's been beyond enough time!
It is my personal opinion that it is also time to show respect when on the floor of Congress and dress appropriately, not wearing hoodies and shorts like a hungover college kid! Disgraceful! 💔
We have already passed the place of having any kind of political solution. We are being invaded by the enemy coming across our borders at this very moment. In our state, the Democrat government is openly favoring, criminals, and making the entire state unsafe. There is no accountability and no way to stop this criminal invasion, because the crime against citizens is taking place by its own government. Texas seems to have the right idea but we'll see if it makes any difference.
Never with this current administration… Washington as well as Springfield
This needs to stop. I pray everyday for our country.
The fundamentally transformation of this nation PRINCIPLES AND VALES TO BE PECULIAR PERSON UNDER THE LAWS TO LOVE AND DO NO HARM TO THE CHILDREN THE FUTUER MUST NOT BELONG TO THOSE WHO REFUSE TO LISTEN TO THE TRUTH IN THE LIGHT OF WISDOM AND KNOWLEDGE TO KNOW RIGHT FROM WRONG UNDER THE INALINABLE RIGHTS OF CONSCIENCE ANS WISDOM OF INTELLEGENCE TO STAND UP WITH SELF ASSURENCE TO BE COUNTED ONE OF THE BRAVE WHO LISTEN AND LEARN THE SOLID ROCK OF TRUTH THIS NATION WAS BUILT TO STAND ON NOT THE SAND OF OTHER god IDEAOLGYS THAT SEPERATE AND DIVIDE FAMILY MEMBERS UNDER THE LOVE OF MONEY AND EVIL DESIRES
I met Darrin back during the Covid lockdowns and a protest in Springfield that we led down the streets with my blow horn and a pastor to where they all were . Darrin walked out over , Pritz and their tyrannical mask policy . We did the interview with him and posted it on one of his campaign status. I know for a Fact he's a Constitution , First and Second Amendment Protector and this last election I really thought Prizer wouldn't be re-elected and here we are further morally corrupt in Illinois with CRT theory being pushed down our throats , gas higher then most Republican States , taxes and groceries higher then ever, guns being taken away from law obeying citizens . Pritzer wants to talk about following the science . Well , we followed him to lake Geneva on his yacht during the Covid lockdowns with us wife , no mask ( I sent it to Darrin) I followed the science to Pritzers sister who works for the people who make the Covid vaccines that Pritz mandated . Needless to say, if you want a 2 tier justice system then you got it with Pritz . You want a Conservative , Constitution Protector that isn't morally bankrupt vote for Darrin. We need to Hold the Line as we did during the lockdowns and vote the right people in . When I say Right I mean Right . We all need to vote Red or our United States will no longer be free , the Democrats will socialize ( communize) us. They are so close now . Look around !!!! Please open your eyes . 🙏🏼🙏🏼🙏🏼 . This is why 2024 will be the biggest election of our life time. 2024 will decide if we are still a free state or if we have given into communism!!Please make your votes count and get out and vote these crazed Democrats ( liberals) out of office. Save our Country and Children. One Nation Under God . We can Take back America if we all vote Republican . God Bless 🙏🏼🙏🏼🙏🏼🙏🏼 .
Every day it gets worse and worse...Totally out of control!! We need change and quickly!!!😡😡😡
Let's Help Darren Hold the Line . Actually push the line back to where it was ! Vote Red ♥️♥️♥️♥️🇺🇸🇺🇸🇺🇸
We already pay enough for our schools and Ukraine too! Shrink the government
Vote for DARREN BAILEY and give us an honest voice in Washington!
Load more

Paid for by Bailey for Congress