Bold & Courageous Leadership
Standing for You in 2022
There's nothing that's wrong with Illinois that can't be fixed by some conservative common sense. I'll fight for the working people, not the political elites.
– Darren Bailey
Donate to Darren's Campaign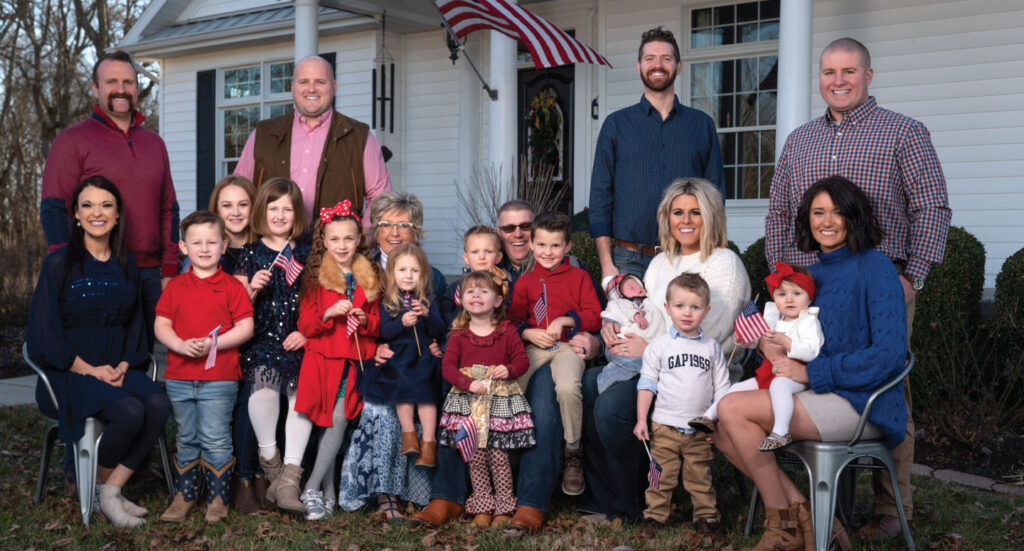 Meet Darren Bailey
A farmer, family man, and fellow citizen from rural Illinois, Darren Bailey's conservative roots run deep.
Darren's Plan for Illinois
Lowering Income and Property Taxes
Reopening Illinois' Economy and Creating Jobs
Protecting the Second Amendment
Fighting for the Unborn
Facebook Posts
Enough is Enough!!! ... See MoreSee Less

3 days ago
Thanks for continuing the fight against the horrible, evil leadership in our state. Prayers for you all!!
Yes I agree. Enough is enough. This has to be stopped. Our Constitution shall not be infringed upon. What Pritzker is doing is against the people's rights
Every county should file a lawsuit bury the corrupt state government in paperwork
Keep up the good fight. Thank you🇺🇸
Glad you joined in on this one Darren Bailey! Missed the first one, but I'm here now!
Please word it so we are ALL included on this one.
Darren I think they have awakened a sleeping giant, go for it , we're behind you .
Keep fighting Darren! Thank you for all you do for downstate on the daily.
You go Darren. I Appreciate it and thank you
I'm glad to see this. I would have liked to see a class action suit that had no limit on plaintiffs
Thankyou Darren Bailey!❤️🔥🙏
Wish you could have addressed the DuPage county board meeting with them trying to force Sheriff James Mendrick to resign! Thanks for everyone mobilizing on short notice! Kudos to one speaker who exposed Chair woman for her legislation history of illegal laws !
If you missed the 1st two lawsuits .... they may start another is there is enough interest.
That look I get from my grandchildren when I try to have a conversation about the future of Illinois under current state party leadership…
Let's Restore our party!! ... See MoreSee Less
3 days ago

The look from my granddaughter when I told her that Pritzker was still Governor!🤪
What do you expect when there is a lemon occupying the Governor's office??!!
My daughter was sitting in the room as I watched the news to see what kind of weather we're gonna have. She goes please don't talk about Biden I'll throw up 😂😂😂
Sad but entirely accurate
Not to mention he's holding a 🍋!!
It is something to cry about!!
Great idea but make sure in that building process the Republican party of Illinois is inclusive of all ethnicities.
I love this ❤️ same little guy, same.
Almost the same look Prickster has when his plate is empty...
That's the look I make when I have to listen to JB!
No that's a lemon face if I ever saw one! Such a cutie!
There is STILL a whole state of Illinois, outside the city of Chicago.
Awe, no matter how hard I try to make Lemonade with Illinois Lemons,lol🤷
That's what that's the face I make when I think of pigster
My cat, when we have the same conversation about Illinois.
I am sorry there is no restoring Illinois. We are actually all moving out. The election was stolen and it is upsetting you didn't investigate. The machines were rejecting ballots and if the signature was bad they still "Counted" the vote. Sorry but Darren get these babies out of Illinois.
Enough with this nonsense! The Republican Party wants to distract from their failures by blaming the candidates that they have no control over!
THE PEOPLE PICK THE CANDIDATES!
Mr. Tracy, I have been patient with you, but it's time to follow Jim Durkin's lead and step down.
The Republican Party Platform has the answers to all of our state's problems. We simply need real leadership and candidates who will stand For The People!!! ... See MoreSee Less

3 days ago
I voted Darren Bailey who is the real candidate who work hard for all of the people of illinois....... and still is.
The same Don Tracy that supported a democrat and used money to fund his campaign? We need real conservatives - real men and women who will stand firm and stand up for the people.
The GOP needs to clean house and start over. Tracy and many others need to go, but we also need to clean house in all 102 county's. If your conservative stand up and be a part of the GOP otherwise move over and be a Democrat!
The Republican party needs to understand that We the People are the bedrock of this nation. Not the professional power brokers within both parties.
No. It was an obese man from Chicago that bought the election. Everyone knows it. What else could have been done with hundreds of millions of dollars. I know it's his Money to do as he please. However, so much good could have come with it. Roads, schools, community relations. On and on. Yet he uses it ensure he wins. Truth
What are they gonna ask them selves to take accountability for the failures of the republican party in Illinois? Also, when are we going to start talking about the fact that the city of Chicago has been under Democrat control for over 100 years and yet Republicans and people who are not in control of anything in Chicago are constantly the ones that the city of Chicago blames for the problems. Republicans in this state need to grow a backbone. Need to stand up to these crooked politicians that have been in office forever and who don't do anything to actually help the people in the state.
Don Tracy is a failure and must step down ... The ppl of Illinois deserve better.
I heard from an individual from the legislature that sending money to the IGOP was a waste if you are hoping they will route it to conservative candidates for office. If you believe in a candidate, you should donate to that candidate. Otherwise you are supporting special interests and not the conservative candidates we need. Tracy and that whole group are RINOS and are content to sit back and allow the Democrats to continue to destroy the state.
There way too many spineless RINOs in Illinois. I am beyond fed up with them.
I agree with you wholeheartedly. I've met to many RINOs in this state, Including my Mayor.
The republican party in Sangamon county makes me sick. They were so far shoved up Irvin. They couldn't see straight. They highly enjoyed, backing their democratic front runner and got slapped in the face when Bailey won. It was the best medicine for them to swallow. I can personally attest to the fact that there was absolutely no neutrality at all in the Sangamon county republican party, when it came to Bailey and Irvin. They didn't want an honest candidate to win because there's too many of them to get their pockets lined. I said what I said.
Blame the loss on lack of Republican leadership and no backing for great candidates. Pritzger's money bought the election. He has eyes on President in 2024..what a sickening nightmare.
Darren Bailey is the choice. My Governor
Voted for Darren and will again
They were NOT neutral....what are we supposed to do when our own party doesn't have our backs?!
New leadership could help but it also must stop alienating the part of the party now labeled "RINO" . Most of those ideas came from conservatives like Colson, Buckley, Russell Kirk but are ignored as are the needs of communities for fringe stuff that will not help Illinois. This has lost the suburbs and other cities like Bloomington and Peoria.
All do respect to Mr. Tracy neutrality, if the top brass in the republican party would stand up and actually get behind a candidate maybe things would have been a little different. From a former republican county chairman.
Diane needs to go as well. They could not have picked a worse replacement for rosemary long.
Irving was a crook hiding in sheep's clothing. Tried to hide it but, did not work.
These Republicans in power now are weak leaders and vote with The Democrats and are the main reason for the weak showing not Bailey, I really think the Illinois Republican Party needs all new leadership!
Am I reading this right. Don Tracey is blaming Darren for the losses?
DON TRACY NEEDS TO GO. He is NOT a Republican. DARREN BAILEY IL GOP.
Load more