Bold & Courageous Leadership
Standing for You in 2022
There's nothing that's wrong with Illinois that can't be fixed by some conservative common sense. I'll fight for the working people, not the political elites.
– Darren Bailey
Donate to Darren's Campaign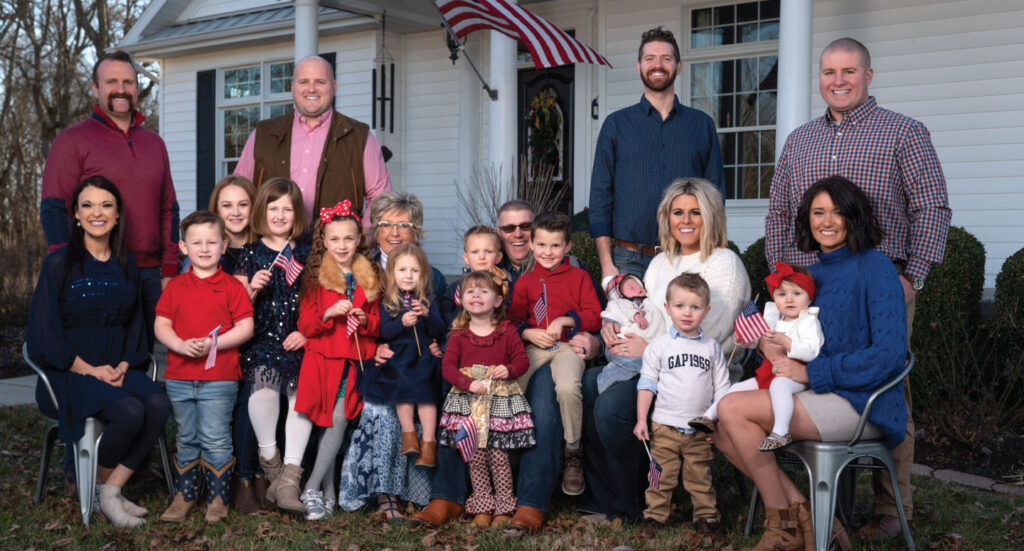 Meet Darren Bailey
A farmer, family man, and fellow citizen from rural Illinois, Darren Bailey's conservative roots run deep.
Darren's Plan for Illinois
Lowering Income and Property Taxes
Reopening Illinois' Economy and Creating Jobs
Protecting the Second Amendment
Fighting for the Unborn
Facebook Posts
Friends, Cindy Bailey and I are not done fighting to Restore Illinois. Tonight we attended the Restore our Constitution meeting in Decatur, and were so excited to hear others already preparing for how we improve Republican voter turnout next election! Cindy's favorite quote of the night was "Our movement is fueled by Faith and Fire!" We must keep moving forward, support local candidates, and keep the faith!
#RestoreIllinois #faith #Constitution ... See MoreSee Less
5 days ago
Thank you for continued efforts!!
your not done yet sir keep building
How can we kick Chicago out of Illinois?
Any possibility southern Illinois can separate from northern Illinois? Come to St Clair county and light a fire under some butts... there are plenty of conservatives here they just feel hopeless
Republican turnout wasn't the issue….. voter fraud/integrity is the issue. We will never win as long as we have ballot harvesting, mail in ballots, drop boxes, and machines "counting" our votes.
From the looks you had it all in the down state areas it was Chicago. When you become Governor can we legally separate and make Chicago it's own state
Hope you will be our new Gov when things get serttled.
I really want to talk 👅 send me a message im waiting for you 🍆
I really miss your daily updates & prayers the last 2 years. It was an honor to be part of your campaign & I'm having a hard time post-campaign. So I appreciate you keeping us in the loop & am ready to help with your next plan of attack on restoring Illinois - if that's even possible 🙏
Can someone tell me what a type 30 ballot is? When my husband and I went to vote, they called out our names and said type 30 ballot. I've tried googling it, asked my parents and even someone that used to be an election judge and can't find an answer.
I think Darren made a lot of progress the last couple years in changing the minds and attitudes in the Chicago area by showing genuine caring for the needs of people instead of talking down and belittling the people. Showing the faults of the Democratic Party and it's lip service and zero follow through on promises is going to be the way to win the people over. It will take time and patients but there seemed to be some real progress this cycle.
Thank you for caring and trying to help
Thank you for all your hard work!!
Chicago needs it's own voting and they can keep Lightfoot and JB.
How do we repeal the safe t act
I read that our Gov.s brother was one of Epstein's client's
I wish Chicago would be it's own state ...
Play

I'm thankful for my family! I'm thankful that my husband and I are able to provide for our son!
So sweet such a beautiful bunch of grandchildren !!! You are very blessed Mr Bailey happy Thanksgiving to you and yours
I'm thankful for my family and You are blessed to me happy life And thankful My Darren and my other niece born Last September
Seeing those Fiesta dishes, I'm thankful for the memory of sitting around a beautifully decorated Thanksgiving dinner that my mom just loved to do, using her vintage Fiesta dishes that her mother-in-law had given her. Although she is no longer with us, I treasure the memory. Happy Thanksgiving to The Baileys from Sterling, IL.
Happy Thanksgiving to you and your family. Everyday is something to be thankful for, the sunshine that our good Lord has given us is beautiful today!!!
So sweet. Darren, I'm thankful for javi g the opportunity the volunteer on your campaign. It was an amazing experience. Getting to know you and Cindy was the icing on the cake. God bless.
Absolutely precious! With your grandchildren!! That's The way a little family should be!! Thank you for sharing that precious moment!!
Aaaawww, they're the sweetest!! I love your house!!!
You are very blessed!❤ Happy Thanksgiving to you and you family.
What a bunch of cute grands. Training them to be thankful. Happy thanksgiving
I'm Thankful for My Family and that Jesus took away My Sins.
Happy Thanksgiving! This year I'm thankful to still have my mom after her fight with breast cancer.
I'm thankful for my family also! Have a blessed Thanksgiving with your family.❣️🦃
Thank you Darren for sharing your precious grandchildren & that we have so much to be thankful for. So great to hear your voice of encouragement once again. Please don't stop pressing through the bolted door that the enemy has backed us into. For he thinks he has shut us up & we are losers. But PRAISE GOD the enemy doesn't know he messed with the wrong people ,(children of God). God spoke to me 20 years ago when I was going through a most difficult time & that WORD IS THE SOLUTION FOR TODAY. That same authority God has given you my Brother. Speak to that bolted door in name of Jesus & He will lead you every step of the way.. Aman I am Thankful for so many things God family friends country freedom liberty & you & Your wife & your willingness to serve. God bless you Darren Bailey
beautiful family!! It's so special that they're spending time with you and Mrs Bailey. God bless you guys and your precious family. We are thankful for all you've done for our state.
I'm thankful for my 11th great grandchild. She was born yesterday.
I love the grandson who is buttering his pancakes while you're praying!!! Kids are great!! Happy Thanksgiving to you all🧡🦃🧡🦃🧡
The ability to worship God freely and for my ever growing family.
Sweet… thanks for sharing
❤️ I think Elliott is thankful for his Eggo 😉🤣🙏❤️ So sweet Happy Thanksgiving to you and your family.
Precious 💞 HAPPY THANKSGIVING TO YOU AND YOUR FAMILY Darrin.
Such sweet grandchildren You all have a blessed and Happy Thanksgiving ❤
That was so precious. I love how the girls are about their heads. Nice and neat and the boys are playing with their butter in their hands or on their face. What a blessing to have all the Littles around you. 
Absolutely precious!💖💖💖 Happy Thanksgiving from ours to yours! We are so excited to see you tomorrow!
Play

God bless you! Thank you for still fighting for us, and being so positive. I think a podcast would be amazing, and I can't wait for it to begin. ✝️
I was never involved in politics until Regional for Darren. Now precinct committeeman and county board. We are building a movement of grassroots conservatives, ground up!
I might be moving… need two years residency in a different district. #DoctorY🤔
It was a blessing seeing Stephanie Trussell on Victory News yesterday 11/18/22. Thank you Mr. Darren, Cindy and Stephanie.❤️🙏🏼🇺🇸✝️
Missing these!! Please touch bases with us & know we'll all keep fighting the good fight with you. Keep the lives coming~they make so much of a difference!!
The future will be amazing. You are part of it!! Stay in touch w the people. Pray! Watch what God does. 🙏🏻🙏🏻🙏🏻
Your time is coming. You will win. I wish I could help, but I'm limited on what I can do because I'm visually impaired.
Thank you for running. God has a plan. Be ready. 🙏🏻🙏🏻🙏🏻♥️♥️♥️
You are so right. Bad things happen when good me do nothing. You are doing something. You are a great leader. Praying for you & Cindy to stand strong. 🙏🏻🙏🏻🙏🏻
Good morning Darren Bailey and God bless you! Thank you for your message.❤️🙏🏼🕊✝️🇺🇸
We don't believe you lost. God will reveal!! Praying!!🙏🏻♥️🙏🏻♥️🙏🏻
How can we get rid of Chicago?
Thank you for your help instructing those who want change. Things will change !!
Faith, Family & Freedom with Darren Bailey
Corrupt Cook County needs to be it's own State instead of running the whole state.
love it podcast is perfect for you
Pritzger can be taken out. Watch & pray!! Prepare to serve.
Our fighting Farmer for America👍🏻
Thankful for you and your beautiful wife!
God has this. Get ready for a great change!🙏✝️👆🇺🇸🦅🇮🇱🕊😊❤
Date to be a Danie, date to stand alone!!! Watch & pray!! We are behind you. Trust God!!!♥️🙏🏻♥️🙏🏻♥️
Be Encouraged brother ✝️🔥
Darren's Illinois Truth Venom - name for your podcast😉
Things are going to change. Get ready to serve. 🙏🏻♥️🙏🏻♥️
Load more