Bold & Courageous Leadership
Standing for You in 2022
There's nothing that's wrong with Illinois that can't be fixed by some conservative common sense. I'll fight for the working people, not the political elites.
– Darren Bailey
Donate to Darren's Campaign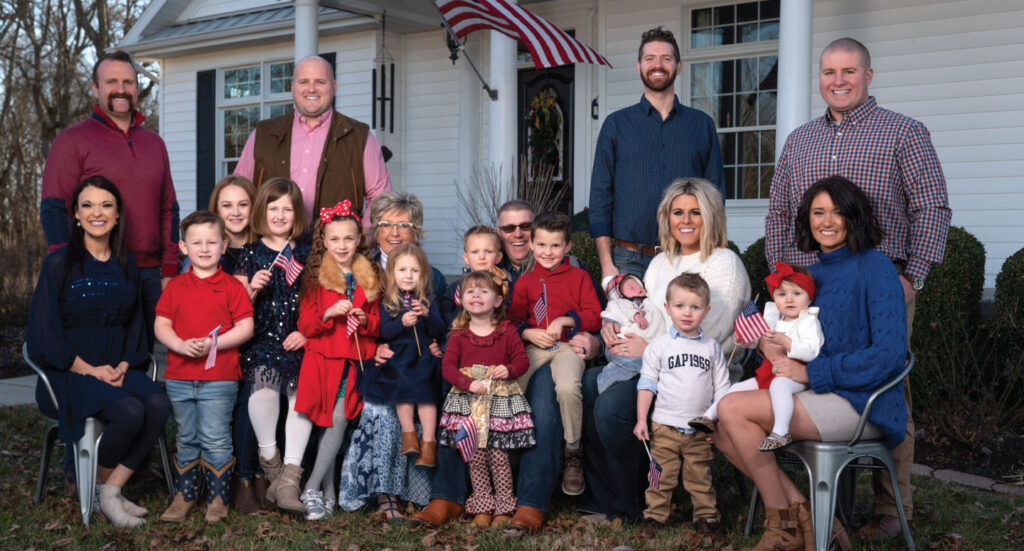 Meet Darren Bailey
A farmer, family man, and fellow citizen from rural Illinois, Darren Bailey's conservative roots run deep.
Darren's Plan for Illinois
Lowering Income and Property Taxes
Reopening Illinois' Economy and Creating Jobs
Protecting the Second Amendment
Fighting for the Unborn
Facebook Posts
Thank you to the great Patriots of Awake Illinois for holding a rally at the Illinois State Capitol today. When I am governor, I promise to restore confidence in our education system, and restore what has been broken by JB Pritzker and his radical Board of Education.
#RestoreIllinois
#FirePritzker
#awakeillinois ... See MoreSee Less
1 day ago
The Board of Education has done so much damage to our kids, especially over the last couple years. Thank you for sticking up for them!
Speakers were very interesting❤️🇺🇸
Right now my answer is no
Not too well attended huh?
This is a great time to hold a rally at the Illinois State Capitol since there are already so many people in Springfield attending the Illinois State Fair. I travelled from Madison County to attend the state fair this weekend and visited Darren's booth at the Illinois GOP's tent and signed the guest list.
Bailey needs to be reminding people every day about Pritzkers Covid tyranny and his naked power grabs through Emergency declarations. Taxes and covid are the topics that fire up everyone I talk to.
And what's you qualifications Darren Bailey ? School board member over a few hundred students and a associates degree in agriculture ?
Just have to make one more comment...Darren you have some real nut jobs on both sides of the aisle on your page...😜😜 Pray that you & your staff are well hydrated & avoiding stress...😀😀 Tell Collin hello & to take care...
Senator Bailey... When you become Governor, please get rid of the rest of the Pritzker Covid mandates that are still in place. I cannot get an appointment for a check up without agreeing to wear a mask to the Dr.'s office and during the appointment. I cannot get a dentist appointment, without agreeing to wear a mask. I cannot get an optometrist appointment without agreeing to wear a mask. I cannot take my dog to the vet, without wearing a mask. All medical facilities are claiming that it is the Law and that it is the CDC regulations. Please, make the canceling of all mask mandates a top priority. And also the health care workers as well.
May I make a suggestion to the administrator of this page that ugly posts from Tricia and Patrick be immediately deleted? Indeed, they should be blocked from here altogether.
JB Pritzker is a trust fund billionaire who is out of touch with Illinois.
#FirePritzker

www.illinoisreview.com/illinoisreview/2022/08/bailey-to-pritzker-you-were-born-with-a-silver-spoo... ... See MoreSee Less

1 day ago
Silver spoon versus silver fork
who is the most out of touch with Illinoisians: A man who's born with a silver spoon in his mouth or a man who's born with a bible in his head?
You know really the only thing good about this year i believe is that everyone knows there won't be much cheating because it's all out I. The open now and not even republicans or democrats know who is watching and what devices are being used to look for the cheats. Got that democrats AND republicans
It will be my pleasure to vote JB The Terrible out of office in November. To anyone who is on the fence, just remember JB was Mike Madigan's hand-picked guy to run against Bruce Rauner. Look where Madigan is now. He is only the single most corrupt politician this state has ever seen. If you're glad Madigan is finally out of office (and let's be honest, even a lot of hardcore democrats were growing tired of his crap before he finally stepped down), you cannot even consider voting for JB again. The first sign that even democrats are fed up with Illinois politics is the overwhelming defeat of JB's "fair tax" amendment to the IL constitution. The next logical step is to vote NO for JB altogether. #FirePritzker #HireBailey
You libs can believe "Christianity and religion is fairy tale nonsense" as much as you want, but keep it to yourselves and to your lib pages and groups like "Occupy Democrats". The rest of us will continue to stand up for what's right, and won't stop trying to put God back in our nation, whether you like it or not!
Brilliant video Darren!!! People need to see this as a commercial !!
JB wishes he was that cute! 😭
Play

Good morning from Rock Falls Illinois. God bless you! Praying you will be our next Governor! Pritzkers gotta go! If God be for you, who can be against you! Have a great day!
Darren Bailey for Illinois Governor ❤️ FIRE PRITZKER/LIGHTFOOT/FOXX. Our children deserve a future 👏 Our children deserve protection. Our children deserve an education 👏
Nothing better than Family❤️💯
Prayers for you both, you are working so hard for the people and state of Illinois…..God Bless
Darren Bailey for Governor! Voters love what they're hearing Pritzker is running out of time!
God bless you and grant you strength!!!
Praying for favor for Darren and Cindy!
We need you both in IL!!! Keep up the good fight!
Good Morning Governor Bailey ! Thankyou Jesus! 👏👏👏😊💎👍❤️🙏🔥🔥🔥
Blessings on u nd db!!!!❤️🇺🇸
Love yall! Pray you become governor of Illinois! God be with yall!
Thank you for your indomitable leadership. 💪🙏☝️
Darren Bailey stop by Lincoln stage for Illinois State Auctioneers Association championship.
Having a grateful heart ♥️
God poor you blessings on them both on Jesus name
God bless both of you. Thank you for everything your trying to do to make Illinois a better State to live in.
Good morning Darren! Thank You for all your hard work! Looking forward in your take over as New Governor Of Illinois!!🇺🇸
Praise the Lord!!! Praise to you and a Blessing. Have a wonderful day. I invite you to our church at Waterford Union Church and praise a few words of the lord.
Governor Bailey is the one that should have kicked off agriculture week ❤️❤️. You will next year. Love you two ❤️❤️ Thank you both
We'll see you this Thursday at the Fair. You have a great following and an awesome network working for you. Love your daily readings. GOD be with you on this journey.
Praying for you for VICTORY in Jesus name Amen! I fast on Tuesday as well call it turn around Tuesday that the Lost turn back to the Lord Jesus Christ and be saved in Jesus name Amen!
Thank you for trying to save our state. Doubtful we'll ever see another fair election but our votes will be cast for you🇺🇲
Load more